How much is Joe Budden worth:
---
Full Name: Joe Budden
Net Worth:

$1.8 Million

Occupation: rapper, musician
Marital Status: single
Ethnicity: American
---
Joe Budden Net Worth – Becoming Famous And Rich In Controversy
How Did Joe Budden Start His Career
Joe Budden net worth of almost $2 million was acquired thanks to his great freestyle rapping, he used as a way to get out of troubles. Joe was born and raised in Harlem, and didn't have very settled life when he was a kid. This, and a fact that he was lazy in his studying, got him to start abusing drugs when he was just a teen. After a fight with his mother, he decided to go to rehab, and states that since then he has been clean. He often speaks about negativity of drug abuse and pro sobriety. His drug problems and troubled life have affected his music style, and can often be heard in his lyrics. He writes his own lyrics and chooses his own performance style, and this is reason how he parted ways with amazingly successful Def Jam records who took him under their wing when he was making his first album. After leaving Def Jam records, he started cooperation with Amalgam Digital, through which he got in touch with guys whom with he formed a group called Slaughterhouse, as it was the name of their first singl.
In his decade long career, Joe Budden has worked together with other rap artists such as Busta Rhymes and Cee Lo Green. He co-hosts reality show called Love and Hip Hop in VH1 and has made two documentaries.
Joe Budden Private Life – Troubles With Women And Law
Joe Budden has one child from one of previous relationships. Joe Budden was in a relationship with a model Esther Baxter. One of Joe Budden girlfriend accused him of stealing her phone and this got him in legal problems, just as one case when he was arrested for avoiding to pay parking tickets in amount of $75. Joe Budden was also wanted by the police for not paying child support for already mentioned child, back in 2012. Joe Budden obviously has problems in his emotional life and finds it difficult to form lasting relationships with women. Last scandal was related to girlfriend he was with this summer, who she supposedly beat up for taking photos with other men. He first slammed her head of car dashboard, and then took her to his home in New Jersey where he continued beating her. His lawyer didn't allow comments in public, but Joe nevertheless took to social media to claim his innocence in supposed incident. Well it remains to be seen who is telling the truth here! Maybe he should ask some anger management counseling, no matter what, do you agree?
Joe Budden tattoos are all over his body, as in many other artists. Joe's tattoos have special meaning for him, as every one of his symbolizes certain situation, emotion, or event in his life. One of these tattoos is for his ex-girlfriend Tahiry, with who he had (no surprise) troubled on and off relationship.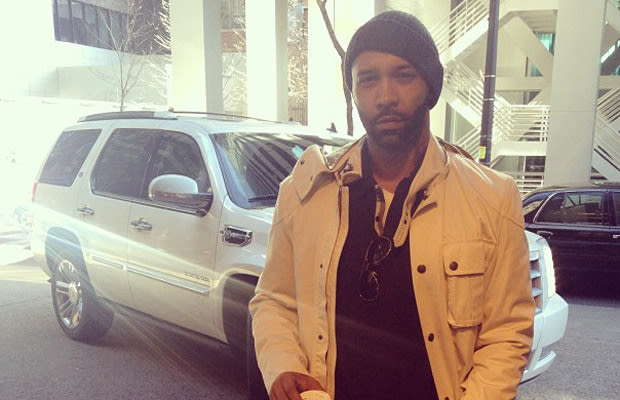 Joe Budden drives luxury Cadillac Escalade Platinum, and his home is his refuge from all problems he faces in life.
Joe Budden is successful rapper; maybe not as successful as Eminem or P Diddy, but he has certainly made his name in rap music. Additionally, all of his albums have got good critics and had good sale results and chart standings. We would like to think that his legal problems will not affect his creativity and talent, because he surely is talented musician. Do you think that he will continue to make good rap albums? Do you think that he will settle down and stop getting in trouble with the law? Please feel free to comment bellow.
Joe Budden Body Statistics: